HOME:

Europicola Professional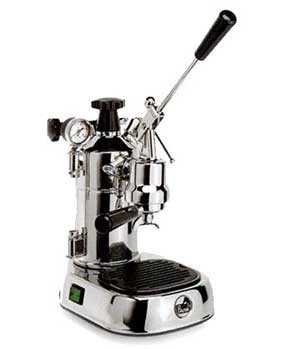 La Pavoni Europiccola Chrome
The Europiccola, chrome finish has evolved since it
was first introduced in 1958, but one thing has never
changed. It is, and always will be, a classic among lever
coffee machines.
Constructed chiefly of brass, and with a large boiler to
help minimise the effect of limescale deposits, the
Europiccola will keep making excellent coffee for as
long as there are coffee drinkers in your home.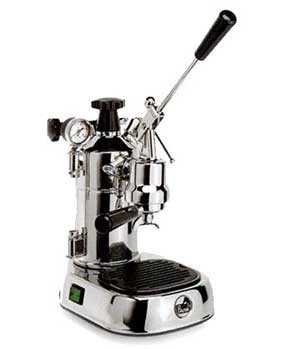 The simple lever mechanism enables you to make coffee
exactly as you want it. Lift the lever to raise the piston,
drawing pressurised water into the filter-holder where it
infuses the coffee. By then lowering the lever, the water
is forced back down through the coffee as slowly or as
quickly as you require for your perfect strength cup
(the slower the stronger). Since all the water is heated
simultaneously, the Europiccola can make eight cups of
espresso consecutively.
Classic in look, classic in quality, the Europiccola
continues to set the standards for other coffee machines
to follow.
Specifications
| | |
| --- | --- |
| | Boiler capacity 0.8 litres, equivalent to 8 |
consecutive cups
| | |
| --- | --- |
| | Boiler pressure: 0.7 - 0.8 bar |
| | Interchangeable steam wand/automatic milk |
frothing attachment
| | |
| --- | --- |
| | Element: 1000W |
| | Dimension: w x d x h: 20cm x 29cm x 32cm |
| | Weight: 5 kg |
| | Chrome finish for long life and easy cleaning |